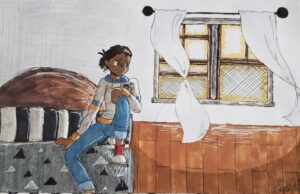 I think it is very important to educate our kids about mental health, with social media being a double edge sword, we have to be vigilant to what they're exposed to.
We always talk about my journey with depression, the techniques and help I have received along the way that has helped me to see a brighter future.
My daughter is using her art sometimes to reflect what she feels inside and I always encourage her to talk about it.
Don't be ashamed to ask for help. I know and I will never forget the helplessness I felt when I was down.
Today I can say that I am better, I'm doing OK.
I've learned how to focus on what matters and when to reach out. Trust me when I say you can do it, don't be afraid to ask for help, it will get better.
You're not alone and you don't have to go through dark times alone.
Author: Saribel
Instagram: @sarydes
*Artwork and video were done by my oldest daughter. The picture is of me back in April when I was feeling really low and the video is a short clip of how she feels.